Thematic PPC campaign
The leading search engines have extensional networks of resources which`ve become the partners. These website can play host to your advertisments if they match the interests of the target group:
as for Yandex Direct, it is Yandex Advertising Network (YAN);
as for Google Ads, it offers to run on Google Display Network (GDN);
These advantages allow the ads to be noticed by the users who visit thematic resources. The systems identify the website subject matter and form the ad list based on this data. The compulsory condition is that the ad text should correspond to the information that is published on the website. If you sell cars, users will see your ad on the dedicated pages.
How PPC cost is formed
The cost per click (CPC) is determined by the auction on the basis of the keyword bid. The bid is the highest cost per click that satisfies the advertiser. The higher it is, the more more advantageous position ads take. CPC can change depending on many factors. They include the bids of direct and indirect competitors, usage of a special system for cost per click adjustment, etc.
Predict your own Yandex.Direct or Google Ads campaigns
How the calculator works
Step 1
Budget
To carry out calculations, enter the number of clicks, CTR, and cost per click.
Number of clicks
Enter the CTR, budget and cost per click.
Cost per click
Enter the number of clicks, budget, and CTR.
Step 2
Number of leads
In order to determine the number of leads, enter the conversion rate.
Cost per lead
It is calculated automatically based on the data entered.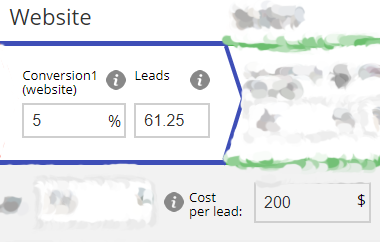 Step 3
Number of clients
Fill in the Conversion for Sale (percentage) field.
Cost per client
The cost will be calculated by the system and displayed automatically.
Step 4
Profit
You need to specify the profitability (as %).
ROI
The ROI is calculated automatically.
How we work:
We analyze the advertising campaigns of your competitors and assess their activity by the number of leads.
We make the semantic core of the website and provide the monthly budget.
Our specialists set up PPC campaigns in Yandex.Direct and Ads.Google in Minsk and regions.
PPC campaigns are set up with reference to the marketing text on any topic using the key searches.
We control the costs of the campaigns in Yandex.Direct and Ads.Google and offer the optimization options for your advertising budget.
We have nothing to hide. You can review online all the tasks of the specialists working on your project online and control how your campaigns are being run, i.e. costs for PPC campaigns, number of visits, etc.